Search
Search Criteria
Products meeting the search criteria
TF USB Music AUX Bluetooth Audio
-42%
2 left in stock
Jinserta BT Car Mp3 Player
✔Calling ✔Music ✔Dual Fast Charger
-42%
1 left in stock
BC49BQ CAR MP3 KIT
Επαναστατικό car mp3 kit για 1) μουσική, απο Usb, ή κινητό και ο ήχος μεταδίδεται στα ηχεία του αυτοκινήτου σας. 2) Φορτιστής αυτοκινήτου μέχρι 2 κινητά ταυτόχρονα 3) Bluetooth handsfree με ενισχυμένη απόδοση και με 2ο Bluetooth earphone για πιο προσωπικές συνομιλίες.
-39%
1 left in stock
mft.0016 bluetooth car kit +free handsfree
JINSERTA Bluetooth FM Transmitter Modulator Handsfree Car Kit MP3 Player (Jinserta BT Car Mp3 Player)
JINSERTA Bluetooth 4.0 FM Transmitter Modulator Handsfree Car Kit TF USB Music AUX Audio MP3 Player
Features:
Full 206 channels optional from 87.5-108.0MHz

Strong and elegant design with LED frequency display  

Digtal display

Detect and display the voltage of Car Battery when power on

Supports U disk / TF card player / AUX output

Supports mp3, WMA format music

Bluetooth answer, hang up, reject, redial calls and other functions

Bluetooth stereo music play

Echo cancellation and noise supports (CVC) technolony a call

Supports 12-24V

Charging Output:5V/2.4A

Automatic power-off memory function

Support multi language:Chinese, English, French, Spanish, Swedish, Italian, German, Portuguese, Dutch, Russian
Specifications:
Rated operating voltage: 12

USB Output: 5V/1A

Working Temp: 0-50

Support Play format: MP3 WMA

SNR: >60db

Distortion: <0.1%

Frequency Response: 20Hz-15Khz

Left and right channel separation: >60db

BT Version: Version 4.0+EDR

Bluetooth sound processing: A2DP(Advance Audio Distribution Profile)

Bluetooth transmission distance: 10M

Bluetooth microphone effective range: 0.5-2M

FM transmission frequency: 87.5-108Mhz

FM transmitter mode: Stereo digital PLL locking

Product size: 13 * 10 * 3.5cm.
Package include: 
1 x Bluetooth hands-free MP

1 x User Manual
(Note: No retail box, simple & safety package replaced!)
Operation Guide:
- Plug the FM transmitter into your car cigarette lighter socket for power and please find search this device .
- Find an empty station and keep the FM transmitter and car FM radio at the same frequency.


TF USB Music AUX Bluetooth Audio
Bluetooth 5 Handsfree Car Kit FM Transmitter MP3 Player USB Charger (BC49BQ CAR MP3 KIT)

Bluetooth 5 Handsfree Car Kit FM Transmitter MP3 Player USB Fast Charger
Item Specifications:
New Vehicle FM Bluetooth Emitter with Colorful Atmosphere Light

Features:
1.100% brand new and high quality
2.With 2 USB ports, can charge two devices meanwhile
3.Intelligent detection voltage, battery voltage is below 12V when the car is not started, please check the battery as soon as possible
4.Two installation methods with firmly, can be clamp, can be pasted
5.One key to HF, support Siri/Google voice assistant, more convenient to use
6.With the technology of CVC noise cancelling, you can really enjoy it
7.With smart Bluetooth 5.0 chip, more stable and faster connection
8.Can connect 2 devices simultaneously, more convenient to use
9.With three modes of music playing, AUX cable, TF card(Max to 32G), Bluetooth connection, you can choose the way you like
10.With Quick CHarger 3.0 charging technology, super fast charging, saving time
11.With music colorful ambient light, good partner for you when in the car
12.Power off memory playing, you can play the music you want
13.Compatible with cars between 12 to 24V, universal
Technical Specifications:
Bluetooth version: Bluetooth 5.0
Rated working voltage: 12 to 24V
Extreme working voltage: 8 to 27V
USB output: 5V/2.4A
Transmitting frequency: 87.5 to 108MHZ
Package Included:
1 * FM Transmitter with quick charge3.0
1 * English User Manual
1 * 3.5mm Audio Cable
1 * 3A Fuse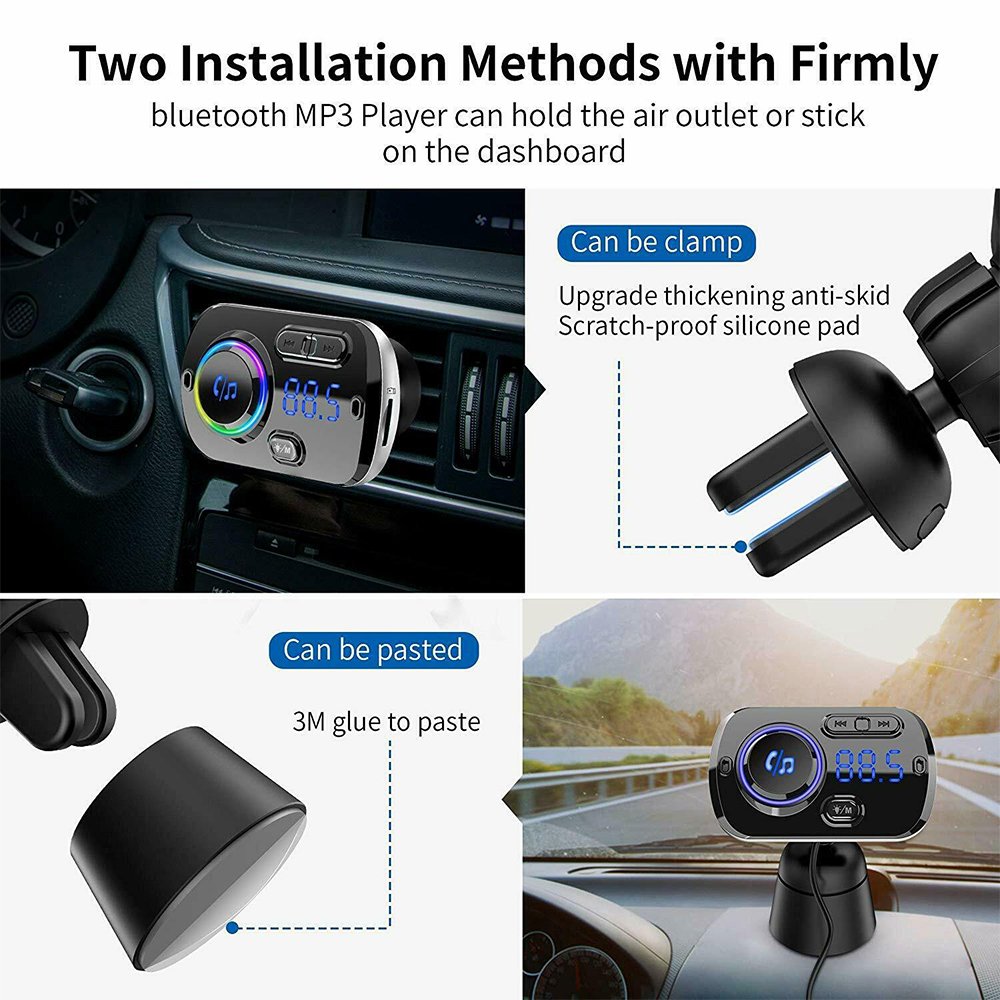 ✔Calling ✔Music ✔Dual Fast Charger
New wireless car kit mp3 fm transmitter + bluetooth handsfreee (mft.0016 bluetooth car kit +free handsfree)
Description : 
Overview

This is a Bluetooth handsfree car kit with detachable earphone, can handsfree talk or take private conversation by earphone,
also can transmit music stored in cell phones to car FM stereo system; 
Supports AUX IN function;Dual USB with large current output can charge all cell phones and PAD etc.;
At the same time the device can detect and display car battery voltage and charging current


Specifications


Transmit distance: 5M
Audio format:    MP3/WMA/WAV/SBC
SNR:             68dB
Distortion:           <0.1%
Frequency response:     20Hz-15KHz
Left and right channel separation:  >60dB
Bluetooth version:        Bluetooth v4.0
Bluetooth Profiles: HFP/HSP/A2DP/AVRCP
Operating voltage range: DC 9~26V
Power consumption:     <1W (No charging)
Operating temperature:  -10~70 Degree
Working humidity:        0~95%
Product Dimension: 21.5(L)*5.5(W)*2.1(H)    CM
Package Includes:

1x Fm Transmitter
1x  Earphone
1x User Manual
Operation instruction

1. Display car battery voltage
As soon as plug this device into car cigarette socket after the auto starts, LCD will display car battery voltage.
2. Choose frequency
Please make sure your car radio frequency is same as this device.(In order to get best effect, try to use the frequencies which local radio stations doesn't use)
3. Volume adjustment
The volume can be adjusted by cell phone volume, car stereo's volume, or long press the volume button of earphone.
Bluetooth Operation instruction
When use the device first time, your cell phone needs to be paired and connected with the device.
1. Pairing
Turn on power switch, the Bluetooth earphone starts automatically and voice prompts "POWER ON",
the device enters pairing mode, the red and blue lights on the side of earphone flash alternately.
Turn on Bluetooth function of cell phone, search new devices, the cell phone will search to this device "BT Car Kit".
2. Select the "BT Car Kit" and connect it, some cell phones need enter password "0000".
3. Voice prompts "Connected" to indicate the cell phone is connected successfully. At this time the red light is off, blue light will flash once in a few seconds.
4. Play music stored in cell phone
After successful connection, you can stream A2DP music from cell phones, audio of GPS or other devices to car stereo audio.
?  Directly press "Play" button on cell phone or press "''button on the earphone to play /pause
?  Push up the button on the side of earphone to play previous song.
?  Push down the button on the side of earphone to play next song
5. Bluetooth handsfree function
? Make a call: dial phone number on your cell phone directly, the voice is sent out from car stereo audio.
6. Using Bluetooth earphone
During using this device, if you do not want other person to hear your conversation, the earphone can be pulled out directly to protect your privacy.
The earphone can also be used alone on other occasions.
Audio in
This device can input audio signal of external devices such as cell phones /iPad/PMP/game consoles via AUX IN jack, then plays them through the car stereo audio.
Use a stereo audio cable with plug diameter 3.5-3.5MM to connect external audio devices and AUX IN jack. 
Charge cell phone


The device provides dual USB ports with output DC5V/2.1A to charge cell phones or other electronic devices.
When charging, the device can detect charging state to external devices and display charging current automatically.
Display charging current 0.9A
Επαναστατικό car mp3 kit για 1) μουσική, απο Usb, ή κινητό και ο ήχος μεταδίδεται στα ηχεία του αυτοκινήτου σας. 2) Φορτιστής αυτοκινήτου μέχρι 2 κινητά ταυτόχρονα 3) Bluetooth handsfree με ενισχυμένη απόδοση και με 2ο Bluetooth earphone για πιο προσωπικές συνομιλίες.